Translation Agency "Friedberger Wortschmiede"
Sworn Graduated Translator
---
English | German | French | Spanish
From romance to articles of association …
Need a translation? My translation agency is the place for you. As a sworn graduated translator with many years of experience, especially in the field of literature, working with my freelance colleagues we can do the translations you need from and into the following languages, Spanish, French and English, fast and competently. When necessary we can provide official certification for all kinds of documents. In addition we are also available as professional interpreters for private and official settings.
Translations of Literature
Languages: German, Spanish, French, English
Genres: fiction, non-fiction-books, theatre, film, literature for young people
Areas of expertise: Mexico and Latin-American, travelling, life-style, arts, architecture, nursing, care, women etc.
Literature expertises for publishing houses
Technical Translations
Working Languages: German, Spanish, French, English
All kind of texts, Product descriptions, operating manuals, newsletters, Websites, press releases and articles, contracts etc.
Main focus: food & wine, agriculture, law, spirituality, care
Prices settled per page, depending on language and degree of difficulty
Certified Translations
Working Languages: German, Spanish, French, English
Translations of all kinds of documents: Birth certificates, driving licenses, marriage certificates, naturalizations, decrees of divorce etc.
Basic price: € 38,- including of 20 lines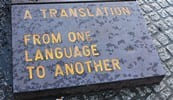 Are you interested in our services ?
Languages can separate or connect.
We build bridges for you!
Since 2002 we have been located in Friedberg
Reliable, fast, competent, and within easy reach, our transactions are straightforward without complications.